Thank you for choosing to do your PADI Discover Scuba Dive experience with Stellar Divers. The experience is a fantastic and fun introduction to the underwater world. As an initial taster session it allows you to have a full scuba diving experience under the expert supervision of one of Stellar Divers highly skilled & friendly PADI Divemasters.
What is involved?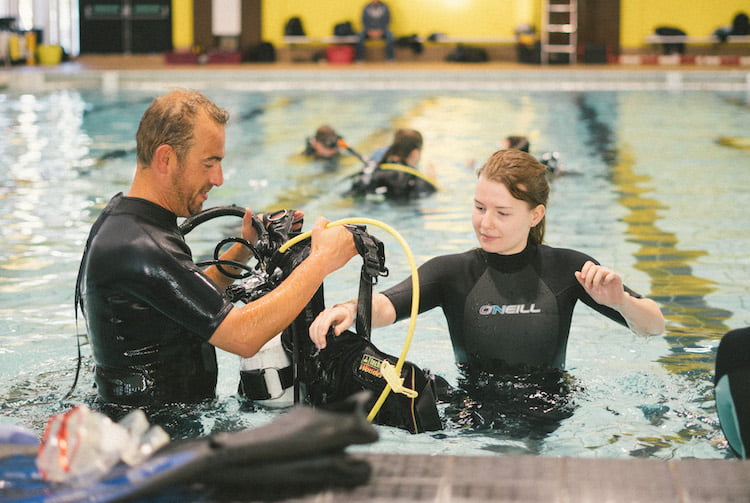 Firstly you will ned to register via the PADI website for the Discover Scuba Experience, this can be done a few ways.
If you like to use a desktop then please click this link: https://learning.padi.com/dsd?store_number=23701
If you prefer a mobile device or tablet then click here: https://padiapp.page.link/?link=https%3A%2F%2Flearning.padi.com%2Fdsd%3Fdeeplink%3Ddsd%26store_number%3D23701&apn=com.duns.padiapp&amv=316&isi=1490797188&ibi=com.mobile.padi
You will be taken to the DSD registration area and then be asked to complete the following forms.
PADI Contact Details Form
PADI Medical Form
Non-Agency Disclosure and Acknowledgment Agreement
Liability Release and Assumption of Risk Agreement eForm
Once this is complete you will be shown informative videos, given interesting knowledge and asked to complete some knowledge review questions, these have to be done prior to your pool booking.
We also need you to complete our Customer Details Information eForm if you haven't already done so. This is so we can get the correct equipment allocated for you and register you with PADI after the session.
It is critical that you complete the PADI Discover Scuba Diving registration and knowledge review prior to your experience.
You will not be able to dive if you haven't completed the forms and knowledge development so please make sure you complete everything. If you have any questions or encounter difficulties please contact us for assistance.
On your scheduled date please come to Christ's Hospital Pool, Wragby Road, Lincoln. Will will be around the rear (See Image below) you will be greeted by the dive team and guided to the changing rooms. Please bring swim wear and a tee shirt for comfort, plus shower essentials to use after.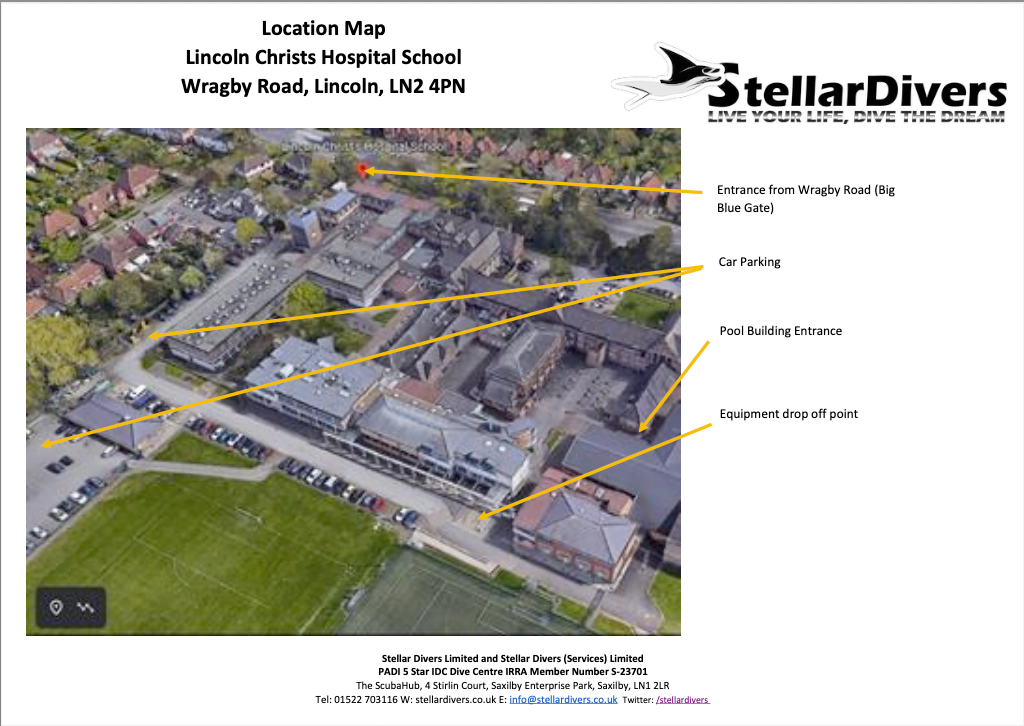 Once at poolside you will be asked to sign our attendance sheet then one of our team of PADI Divemasters will give you a briefing before doing a comprehensive equipment orientation.
This is followed by a straight forward knowledge check after which you will be fitted with scuba apparatus and then you will spend approx 60 exciting minutes swimming underwater under our close supervision.
What does this exciting experience cost?
If you have already paid for this thank you, if not the PADI Discover Scuba Dive is just £35 each and that is payable prior to your event please. Payment can be made by bank transfer to HSBC Stellar Divers Limited sort code 40-28-20 account number 23801497, thank you.
When and where?
The session will be on a Saturday at 11:30 – 13:30 at Christ's Hospital Pool, Wragby Road, Lincoln, if not already agreed we will agree a date for the session with you.
Is there anything else I need to know?
You do need to be in reasonably good health to come diving. If you have asthma, back or joint problems or are pregnant, please contact us before your session in order for us to provide some advice. The sessions are open to anyone of 10 years and over – we will require a parent or guardian to attend with anyone under 16 years of age who must also attend the safety briefing and countersign the paperwork.
If you need to re schedule your date please give us as much notice as possible.
What comes next?
Following the course the next exciting step is the PADI Open Water course, we would love to offer you a free introduction to this fantastic course, just follow the link at the base of the page.
Once there please create an account, log in and enjoy the introduction to the PADI Open Water course. It is the world's most popular scuba course and has introduced millions of people to the exciting and adventurous diving lifestyle. The PADI Open Water certification is recognised and respected by every dive operator around the world, anyone from 10 years old can do their "PADI". If you've dreamt about wanting to learn how to scuba dive, discover new adventures or simply see the wondrous world beneath the waves, this is where it starts, it can so easily all be yours. Join our club, come on our amazing trips and see what scuba diving is all about.
At Stellar Divers we have four different options of the PADI Open Water course to offer you, this is because we believe that everybody has their own unique reason for learning to dive and so we offer this choice to best meet your needs. We will talk more about what we offer and Stellar Divers when we meet you.
If you have any questions, at any time please call us on 01522 703116 to speak with one of our friendly staff members.
We look forward to seeing you soon, thank you,
Simon & Victoria Hotchkin – Directors of Stellar Divers