Ok so where to begin 🙂 Saturday was EFR day, so some very good CPR skills, if fact SO good Colin went into shock!! Sunday started with Ghillie praying to the God of Re Breathers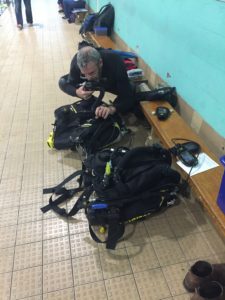 and……congratulations to Patrick & Tracy on finishing the pool work, next stop Seychelles & a PADI Scuba Diver certification, good luck, see you in 2018.
Welcome Martin & Fiona two great PADI Discover Scuba Dives, we look forward to starting your Open water course in early 2018.
Well done also Ricardo, Isaac, Joe, Debs, Ian & Samuel, that's one step closer to your Open Water qualifications. Good to see our Seals Sam & Coen having a huge amount of fun & great to see Dan & Cams for a swim around.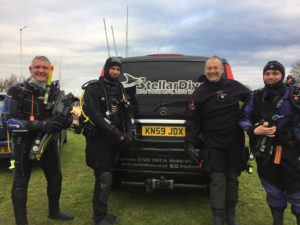 Awesome Rescue skills in the pool Tim, Aaron & Chris and so to Girton to repeat & hone those skills followed by some top open water scenarios. Very nearly PADI Rescue Divers. Thank you Major, Russ, Seasick, Helen, Chris W, Ian, Siân, Dan, Alice, Colin, Karl, James, Chrissy & Mark. We are at Capernwray Wed, Thur & Friday if anyone fancies a good mid week bimble in good company, have a great week everyone, get those christmas trees up and I hear Sainsburys have egg nog in!! Take care Hotch & Vic.