Well sometimes you just have too!!! So even though the heating broke and left the pool at -14 degrees today we can still say a massive congratulations to Lottie, Hugo, Simon & Clare on completing their PADI Scuba Diver referral. Bon voyage and we look forward to seeing you in the summer for the next adventure.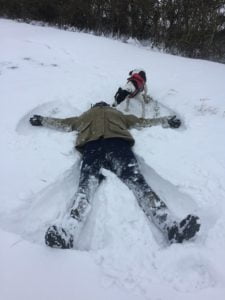 Thank you Ian & Junior for helping today (especially Junior for pure technical ability!!)
Right next….we are massively proud to say that we have our own adopted dive site WA HOO; so on Tuesday we will be at Girton quarry to do another Project AWARE Foundation dive site clean up, if anyone wants to come and help you will be very welcome, mesh bags & slates are available as well as a flask of coffee!!!! We are off on mass to the one, the only H2O Lisbon Dive Club on Thursday until Sunday so no pool, if you want to come over and share the fun (and warmth) with us & Big J at anytime just let me know, we can also run any course you like there (including Re Breather). Right so please have a great week, keep wrapped up & enjoy, thanks Hotch & Vic.