Are you comfortable? now no rushing!! here it comes…………A stunningly good classroom session with Siân & Ian on Saturday, loads of the PADI Instructor syllabus elements smashed, loads of coffee drunk and even time for a pack up!!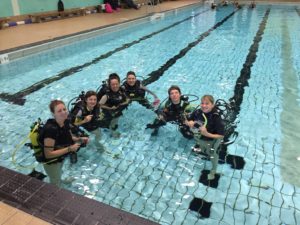 Then it was Hello Sunday!! Welcome Samantha, Kelly, Helen & Caroline, our newest

PADI

Discover Scuba Divers with H & photo shy Alice 🙂 Welcome also Ben, a fine tune up with Chris W, we look forward to seeing you all again very soon. Great job on your Open Water course Debs, Ian, Ricardo, Isaac, Joe, Sarah, Sam, Martin, James, Philipp, Ali, Tracy & Paddy, the lure of the open water dives is strong now!! Well done Dan & Chrissy on your DM waterskills, lovely to see Tony, Darren & Alex for swim arounds & thank you Major, Mr D, Russ, Siân, Mark & our surface dive team Grace, Rick & Fern.
Oh BUT hang on it doesn't finish there……in the classroom we say congratulations to Ricardo, Isaac, Sarah, Philipp & James on completing your open water course work, well done to Debs, Ian, Tracy & Paddy on an intense RDP session….welcome Phil & Callum to your PADI Open Water course & Isla to the PADI Seal Team club, we will have you all in the pool soon. Thank you Ian, Russ & Junior for being classroom Gurus and Colin we hope you get well soon. Have a great week everyone Hotch & Vic.