Congratulations you are about to enter an amazing and very special world with Stellar Divers, we will act as your guide, mentor & buddy. The PADI Scuba Diver course is a fantastic introductory route into Scuba Diving & having a PADI certification means that you will be recognised and respected as a scuba diver at more dive centres than any other dive certification on the globe.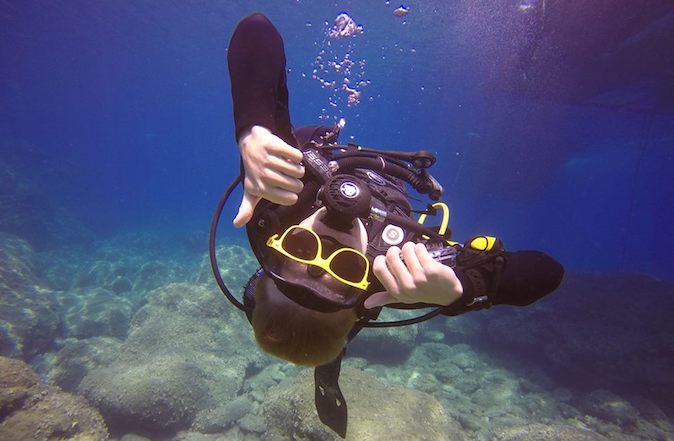 The PADI Scuba Diver course is a great choice for divers who always want to dive with & be guided by a PADI Professional. Once you have qualified as a PADI Scuba Diver you will be certified to dive anywhere on the planet to a maximum of 12 meters under the direct supervision of a PADI Professional. It is a great choice for young adults who need an experienced guide while they grow their diving experience.
The PADI Scuba Diver certification is the gateway to the amazing underwater world of wonder & awe. If you've always wanted to take scuba diving lessons, experience unparalleled adventure, see the world beneath the waves & meet some fantastic people, this is where it starts. If you are a total scuba beginner with a thirst for adventure, the PADI Scuba Diver program is a great first choice.
The PADI Scuba Diver course consists of three main phases:
Knowledge Development to understand basic principles of scuba diving.
Confined Water Dives in our pool to learn & master the basic scuba skills.
Open Water Dives to use your new skills and explore underwater, see wrecks & amazing sea life!
So how can I start learning now?
PADI's home-study materials are awesome, the PADI eLearning that accompanies this course are second to non in terms of quality, information & ease of learning.
Contact the Stellar Divers team to enrol on the course, then get your eMaterials so you can start. Our dedicated team will then produce a course schedule for you so that we can check your progress and make sure you understand important scuba diving information in the knowledge phase. Our mission is to get you diving as soon as possible, the knowledge development is important BUT you need to dive asap so we will schedule your pool sessions to start as soon as practical.
What scuba gear will you use?
In the PADI Scuba Diver course, you learn to use scuba gear including a mask, snorkel, fins, regulator, buoyancy control device (BCD) and a scuba cylinder. The equipment you will wear varies, depending upon whether you're diving in tropical, temperate or cold water.
Next Steps
Contact the Dive Team and enroll on this fantastic course. Breathing underwater for the first time is something you'll never forget, so don't wait. Once you have completed the PADI Scuba Diver course & gained valuable experience take the next step and become a PADI Open Water Diver & dive independently with a buddy to a maximum of 18 meters.
To start this course just visit our eLearning Digital Hub or Contact the Dive Team. To view all Stellar Divers PADI Course options & our latest prices please visit our full PADI Course List, we look forward to hearing from you soon.