Please see what our Customers think about us:
Laura Bushfield
Feb 2021
"An awesome dive centre! Hotch, Vic and the whole team were so welcoming and patient, they all really went above and beyond to make the experience one I will remember forever. I joined Stellar Divers as a complete beginner and I'm now a qualified PADI open water diver. I'm so proud of this and I know I wouldn't have been able to achieve it without all of the support from the Stellar team – thank you! Due to my own schedule being busy & me taking a break for a couple of months I got to work with a few different instructors. I found them all to be very knowledgeable, supportive and I felt safe diving with them. Whilst I was doing the course I went on a discovery dive in Cuba so I've seen first hand that not all PADI qualified instructors are as good as the ones I worked with at Stellar. I completed the course with a weekend of diving at Capernwray in November and I'd fully recommend it, even just for the social after!"
Mary Jackson
Feb 2021
"I've just watched your Shark Conservation video with Tom & he is now following me everywhere asking when can he dive again!! Thank you for inspiring my Son he now wants to be a marine biologist."
Gaz Wood
Dec 2020
"I'd just like to applaud the way Simon Hotchkin and Victoria Hotchkin have set up the Covid restrictions and allowing us to be able to dive. Brilliant to start my Divemaster course with Vicky Burton you were brilliant. Topping it off socially distancing at Girton for a cold lake dive to get Alice through the Rescue course was fantastic this afternoon. All topped off with mince pies made by Mrs W, Julia Wood. Stellar divers, what a team"
Jason Goddard
October 2020
"I would like to start by saying thank you so much for get the girls thought their PADI open water, they are both well chuffed as am I in there achievement 🙂
I thank you and your team for looking after them so well."
Branden Kusanto
July 2020
"Hi Hotch, thank you, Ian, Carl, and everyone else from Stellar Divers that were there over the weekend for all the help and guidance! Sheena and I really enjoyed ourselves and are so pumped to dive again.."
Ed Cowley
Feb 2020
"The coffee is awesome. Always friendly flexible and organised. Calm, clear and enthusiastic teaching, whilst making the whole thing loads of fun. Hotch and the gang are the people to dive with in Lincolnshire, whether learning or just loving your diving life."
Jeremy Patton
Nov 2019
"Hi Simon
First 2 open water dives today, including my first shark sighting. My instructor seems very happy with my skills, both in the pool yesterday and in the sea today. My mask is greatly improved, mainly just leaks when I smile, but for obvious reasons I seem to be smiling a lot. Ian's training has prepared me well, please thank him.
Jeremy"
Alex McClean
Oct 2019
"Hi Hotch it's Alex thought I would give you an update on my open water dives I completed 1&2 yesterday the instructor was very happy with what I learnt from you guys, a big thank you for that. I got to see some moray eels, stingrays, a bull shark , loads of fish and coral reefs it was a very good experience with no issues. Just want to say a massive thank you to you and your team you guys do a very professional and amazing job thank you very much."
Ian Stebbings
Aug 2019
"Hi Simon with having such an amazing time yesterday both me and Emily would love to join your club, For you and your amazing team to take us all the way to becoming master scuba divers and instructors and beyond. Never before have I felt at ease talking to you and your team and trusting you all with the most precious thing I have my daughter. So if you would have us both can we please join your lovely club . Once again thank you so much."
Sue Wells
Aug 2019
"If anyone is thinking about taking up diving or just having a go, I can thoroughly recommend Stella Divers, I was very nervous about diving in deep water (anything above 1.5 meters!) Me and my friends had various instructors including, Vicky, Ian and Sian they were all amazing, they were patient, knowledgable and calming and when I did my open water qualification at Capernwray they managed to get me down to 14 meters ! I still can't believe they did that, we also had an awesone time there, such a nice group of people. Thank you so much."
Robert Ellis
May 2019
"I cannot thank you, Seasick, Vicky and the rest for making me feel so welcome and for the trip of a lifetime! I'm still processing what I saw on the dives and the experiences like hanging on a line at night while sharks circle or the hilarious deep water assessment."
Julia Welton
April 2019
"Thanks to Ian and Dredge for all their support and help today and getting Anna and and I through our final pool session, you were both ace – bring on Capernwray x"
Nicki White
April 2019
"Thank you for making me so welcome this morning! I really enjoyed it, and I'm looking forward to coming back again soon. I hope those who are going have a fantastic time in Egypt!"
Mark Werrell
April 2019
"Many thanks to you and all your instructors for their time, patience, advice, understanding and knowledge, they're all a credit to Stellar Divers."
Mark Northern
April 2019
"Just had a perfect morning being introduced to scuba by the guys and gals at Stellar, very professional, courteous and friendly, can't wait to see you again, thanks for everything."
Paul Green
March 2019
"What a nice bunch of people at stellar, thank you for getting me my PADI! I want it all now 🙂 "
Cathryn Gant
Jan 2019
"My 9 year old daughter is currently doing her PADI Master Seal, having already undertaken a Bubble Maker dive and her PADI Seal. The care and guidance the instructors give is second to none and I wouldn't hesitate to recommend Stellar Divers. "
Paul & Donna Ryan
Jan 2019
"We knew we had to do the Dry Suit course, but wow we didn't expect such a great bunch of people too. Stellar Divers are without doubt the best dive centre we have ever come across!"
Ian McDonald
Oct 2018
"Hi Simon, I just wanted to say again, a big thank you to you and Vic and the rest of the instructors for all your help and patience in helping Scott through his open water course. It really was a fantastic weekend, every person on the trip was genuinely friendly….a great bunch of people. You seem to have made a lasting impression on Scott as he doesn't care about the cold water now, he keeps telling me he just wants go back and dive again asap….He loved it. Thanks again for everything. Ian and Scott."
Josh Payne
Oct 2018
"I simply can't recommend Simon, Vic and the team at Stellar Divers enough, with not just amazing diving tuition and support but also many laughs and great trips together."
Carl Wetherill
Sept 2018
"Thanks again for a fantastic weekend, it's not possible without the time, commitment and organisation you both put in with the rest of the dive team you have built. I never felt unwelcome by anyone all weekend and I tried to make others feel that way too. It's such a refreshing warm atmosphere in the club which is why I've returned and will continue to do so, that mixed in with the hospitality at the kings arms, I couldn't have made a better choice of club to dive with in the UK. So, thank you, very much for everything. I'm sure to be on another course very soon, speak soon, Carl"
Clare Smales
July 2018
"A very big thank you to all the team at Stellar Divers this weekend at Capernwray. We had such a warm welcome at the pub which continued through out the weekend. A special thanks to Alice who was just amazing, putting us at ease and going above and beyond in her responsibilities. We successfully completed our AOW and Dry Suit course under the guidance of "Sea Si" Thank you Simon for making the final dive a little bit more special by allowing time to just enjoy the fish. An amazing club with amazing people."
Nicola Everatt
June 2018
"Had an absolutely amazing weekend in capernwray with my 12 year old son and his grandad. Vicky and Dan have both been amazing with him and we cannot thank you enough for the support and encouragement you have given him. Jack is thrilled to have qualified this weekend. Thank you once again."
Leon Carrington
May 2018
"I just want to Thankyou both once again for helping to get where I am today. If it wasn't for you guys teaching me how to dive I would never have this amazing Job' hope I get to come and dive with you both again soon! PADI OWSI #407000 Specialty Instructor ? almost MSDT now!!"
Kieran Ferry
May 2018
"Just wanted to say a big thank you for all the excellent training, tips and advice your team gave me on my Open water course. I had an excellent time at Capenwray meeting new people and putting my new skills to the test. Think it's safe to say I've got the diving bug 🙂 you'll definetly be hearing from me pretty soon about booking the advanced open water course! Thanks again, Kieran."
Sarah Jones
May 2018
"Hi the Hotches, Just wanted to say thank you for a fab weekend, lovely people & fab company – could you pass on my particular thanks to Carl, Dan H, Chris & Seasick- for their support & of course Vic for getting me through the last bit lol. Looking forward to doing the next course:) Best wishes Jonesy xx"
Gary Hawkins
April 2018
"Well that's it Open Water diver complete massive thanks to Simon Hotchkin and Victoria Hotchkin and the rest of the team at stellar divers and a big thanks to Bali scuba team what an awesome day cheers everyone."
Jay & Joss Arend
April 2018
"Thanks for yesterday the DSD course was superb. Both Helen and Gilly were fantastic and a pleasure to be around (can't be praised highly enough). I would also like like to come back."
Martin & Fiona Abbott
February 2018
"Just want to say a massive thank you to Hotch, Vic and all at Stella Diving for helping Fiona and myself to become Padi certified open water divers. #amazing"
Pat & Jo Green
January 2018
"The team at Stellar have been fantastic, they are friendly and patient, we loved every minute. The Maldives at Christmas was beautiful and we both want to do more now so roll on spring and our advanced open water. Thanks again everyone, see you in March."
Steve Moor
November 2017
"We went diving on holiday and had a bad experience but we wanted to try again. The way stellar have been has been wonderful especially Vic and Sian. Everyone is brilliant, right from the first day we met at the office everyone has been patient and kind. If you want to scuba dive you need to train here, we've found our happy place."
Matthew Granger
September 2017
"I just wanted to say thank you for a brilliant weekend at Capernwray. At no point did I feel like an outsider, yourselves & everyone in the group made me feel welcome. I was a little apprehensive about the dive but the professional way you looked after us made me feel safe at all times. You have created something special and I wish you every success for the future. Thanks again."
Rowland Potter
August 2017
"Simon, I would like to express how wonderful the experience Grace and I had at your dive centre today and to pass on our thanks to Petra and the two gentleman who made the experience so enjoyable."
Kate Siviter
June 2017
"Hi Hotch & Vic, Just wanted to drop you a line as I didn't drown to say thank you. From the warm welcome & even a reassuring hug from Hotch on Sunday. The whole experience was so good. Petra, Alice & Dan were all amazing. Everything was explained clearly & all my anxieties floated away from the first underwater breath. I would love for you to let me know what the next step would be."
Olie Hanson
May 2017
"Hi Hotch! Just want to say a massive thank you to you, Vic, Lance and Duncan for a fantastic weekend! We loved every minute! So happy we chose to learn with you guys! You'll definitely be seeing us again! (We're already looking at the advanced course) Thanks again! Olie & Leanne"
Annette Moore
May 2017
"Thank you for a super fantastic dive holiday STELLAR DIVERS of Lincoln – You made us feel so welcome – I couldn't have asked for a better bunch of people to spend a week on a boat with ? And Dolphins/sharks to order – I'm impressed!!! I shall hopefully see you all soon sign me up for the next one…"
Tim Chester
April 2017
"Final two dives today. First hard dive to a cave at 40m, current very strong and end of cave drops to 400m! Second was a coral garden at 18m, will post some pics when I can. It's always nice when the dive master compliments you on you diving skills compared to some of the other divers. Must be something to do with the training from Simon Hotchkin and Lance Hicks ?"
Colin Skipworth
March 2017
"Just done dive 54. I spend most of my time on these dives at the back of the group and I know it's not the best place too be but I have become fascinated with the amount of diving styles people have and I'm thankful of being trained by one of the best, sorry two of the best, and being a member of a great group. I also find myself looking out for a lot of other divers and keeping an eye on them even thou I know the dive leader is more than capable. I'd like too thank stellar divers for teaching me the ways of the diver and some day I hope too pass these ways on."
Jonathan Batty
March 2017
"Hotch/Vic,Thanks so much for today! Was an invaluable refresh for us ahead of Corn Islands next week and also lovely to see you."
Emma Goy
Feb 2017
"Mia thoroughly enjoyed her first Scuba Dive experience today and has talked of nothing since..thank you! She'll be on the next course 🙂 xx"
Leanne Henson
Dec 2016
"Thank you Hotch for fitting me in at such short notice, I've just received my PADI card and am now ready for my holiday can't wait to try nitrox for real. Thank you again for getting me on the course I loved it and you made everything so understandable despite my questions!! Thanks see you in 2017."
Jonathan Batty
Oct 2016
"Hello Vic, Oskar and I enjoyed our course and also experienced a great bond when together in such challenging circumstances – so it was in all a very worthwhile experience. So please pass on our thanks to Lance, Duncan and Richard for getting us through. Many thanks to you and Simon also for the entire experience and hope to see you again one day))) Best regards Jonathan"
Steve Chambers
Oct 2016
"I need to drop you a line to thank you because I am amazed at what I have achieved, from being scared of water and now a scuba diver. I've just got back off my holidays and had some amazing dives with SHARKS!! it was fantastic, I can't thank the team at stella enough for their hard work and support. If you want to learn to dive or overcome a fear then these are the ones to do it with"
Kiera & Brad Bushnell
August 2016
"I'm using my dads profile because I'm 10 and I'm not allowed to have Facebook yet. I was really scared to try diving at first but from my first go Chris (seasick) made me feel really safe and I couldn't wait to do more. All the dives I've done have been so much fun every time I have come to the pool. Everybody has been really kind and have been so so supportive and I've enjoyed every second of it ! I want to say thank you to everyone especially Hotch, Vicky, Sian, Richard, Lance and Chris you lot are all awesome!
From the Dad: "Couldn't recommend this club enough, absolutely fantastic team who put everything in to what they do. As a dad of a ten year old beginning her diving training, I'll be honest I hated the idea, but the whole team put my mind at rest immediately. I couldn't have asked for a better school or club to teach my little girl. My daughter will be coming to this club for years to come and will be progressing through her training with this fantastic team, thank you so much."
Tracey Mitchell
July 2016
"Was indeed an epic weekend with great company! Still buzzing!! Huge thanks also to you Hotch and your lovely Mrs Hotch ?"
Shaun Humphrey
July 2016
"A giant thank you to Hotch, Lance, Duncan, Ollie, Chris, and Allen for a wonderful weekend of diving. It is quite an accomplishment for me to be an advanced open water diver. It was merely a stepping stone to my goal of leaving the UK as a reduce diver at a minimum. Again, thank you all for the wonderful instruction, the friendly Wainwrights, and the overall great company!!!-HUMP"
Shaun Humphrey
June 2016
"Hotch and the team are amazing! They got my very done quick, just for my Greek holiday! They were very professional and thorough. I felt very comfortable diving with them, despite the 1ft vis at Blue Lagoon on my first 3 open water dives…lol. Can't wait for the next course!"
Mark & Alex Tokelove
May 2016
"Alex and myself had our final dive today and I am pleased to say we both passed. Many thanks to you all at Stellar. Please pass our thanks onto Chris and Lance. Ryan our instructor here said that our training was top notch and praised our instructors in England. We are having a day off tomorrow and the have 2 dives booked for Thursday as qualified divers. Once again many thanks for everything, we will be coming to see you again soon as have the bug now. Mark and Alex"
Cathie Hewitt
April 2016
"Hi Simon, Enny is now a junior adventure diver! She completed Naturalist, Navigation and Peak performance buoyancy in Malta over the Easter break. She dived down 14 metres to HMS Maori outside Valletta harbour. 2 more dives until her advanced. Owes it all to you guys. Thanks Cathie"
Steve Long
April 2016
"I did a discover dive with Stellar and I have to say how impressed I am with everything there, I was looked after and really enjoyed the experience, I will be doing more. Thanks guys."
Rhona Repton
February 2016
"Many thanks for the Seal Team Missions. Sammy is really enjoying his training. Everyone has been very encouraging."
Michelle Househam
December 2015
"Hi Hotch, I hope you both have a wonderful Christmas and I'm looking forward to diving with you again next year 🙂 Thank you very much to you and the team for making my Open water experience so amazing! Best wishes Michelle x"
David O'Connor
December 2015
"My 2015 diving learning experience is now completed and I wanted to thank you and the team for all your help. I think I have dived with all the active members of the team at least once and, of course have done a lot with you two. I've done more than I anticipated and got much more out of it than I thought I would. It's been fantastic fun and has opened me up to some great experiences this year with the promise of many more (and even better) in future years so a huge thank you to you both and all the team."
Ben Skipper
November 2015
★★★★★ "Vic, Simon and their team are very professional and very friendly. We had great fun learning to dive with Stellar Divers. Thanks guys!"
Jamie Cartwright
October 2015
"It was a huge pleasure to meet you all, and to gain a lot of experience from you, Vic and Karl. The setting, hotel and every aspect of the weekend was just perfect."
Ian Potter
October 2015
"Many thanks to Hotch & Vic for training Ryan & I in our 5 day crash course to attain our Open Water certification. They're the most enthusiastic, friendly & accommodating people we've met. Fantastic coaches! Once again thanks and we look forward to joining you on our next course."
Lawra Start
August 2015
"I have officially got the doin bug big time! 6 dives at Sodwana bay, off the East Coast of South Africa and I feel a whole new world is out there ? thank you for getting me qualified! It was amazing to arrive out there and crack on with my first sea dive ???"
Leon Michael
July 2015
"@StellarDivers awesome meeting you guys earlier! Can't wait to get learning with you! #PADI #scubadiver #newcareer"
Mike Hanby
July 2015
"Hi Simon, A quick email just to say thanks for your help arranging to finish Louise's open water course. Please also pass on thanks to Petra and Emily for their help over the last two days. Louise thoroughly enjoyed it. Regards Mike, Denise and Louise"
Mark Davis
June 2015
"Had a blast at the weekend. Thank you once again for the training and as always a pleasure to spend time with you all. Really enjoyed it"
Tiff Mair
June 2015
★★★★★ "They are fantastic! Really supportive and with you 100% of your journey. I have really enjoyed learning to dive with them and am keen to continue. Thank you!"
Helen Thomas
May 2015
"PADI Discover Scuba Dive – Hi Simon I would just like to say a big thank you for making Arian so welcome on Sunday she had a great time and feels it has given her a good taster for what she will experience in South africa. Also a big thank you to Mark for his patience Arian said how lovely he was. I am sure she will have a great time in Africa many thanks kind regards Helen and Arian."
David O'Connor
April 2015
"PADI EANx course – Normal excellent standard, explanation and consideration of risks and how to manage them effectively that I have come to expect from Stellar."
Lynn Jones – PADI
March 2015
"Dear Simon, We have been contacted by Gary Noble who unfortunately has had some poor training experiences in the past, but is delighted with the professional service he has received from Stellar Divers and yourself in particular. We would like to express our gratitude to you for helping Gary resolve his issues and assisting in furthering his diving career. It is always a great pleasure to hear someone praising the efforts of one of our members. Congratulations on receiving such a commendation from one of your students. We appreciate your efforts and wish you every success for 2015 !"
Josh Payne
February 2015
"Hi Simon, I just wanted to say a big thank you for the week on the Liveabord! I thoroughly enjoyed it with great people, great food, a fantastic crew and just an amazing atmosphere I know there's so much work behind the scenes and the whole holiday ran smoothly down to yours and Vic's planning and the huge amounts of time you put in so cheers for making it a truly amazing holiday! Thanks to Vic again for being my guardian and personal guide, we got to see so much in such a short amount of time and that's all down to her I'll be interested in more trips in the future with the stellar diver
family, if you want me back Thanks again Josh"
Sara Otter
January 2015
"★★★★★ Top team & GREAT instructors! 1st class all round! Can't praise them all enough! Thank you for my Open Water Referral for Thailand! 🙂 See you when I get back! :-)"
Tom & Andrea Scott
December 2014
"A massive thanks to everyone for getting us through our PADI Open Water and Dry Suit courses this week, thanks to Hotch & Major for their patience over the last 2 days at Stoney Cove…the whole team as Stellar are brilliant."
Lilly
November 2014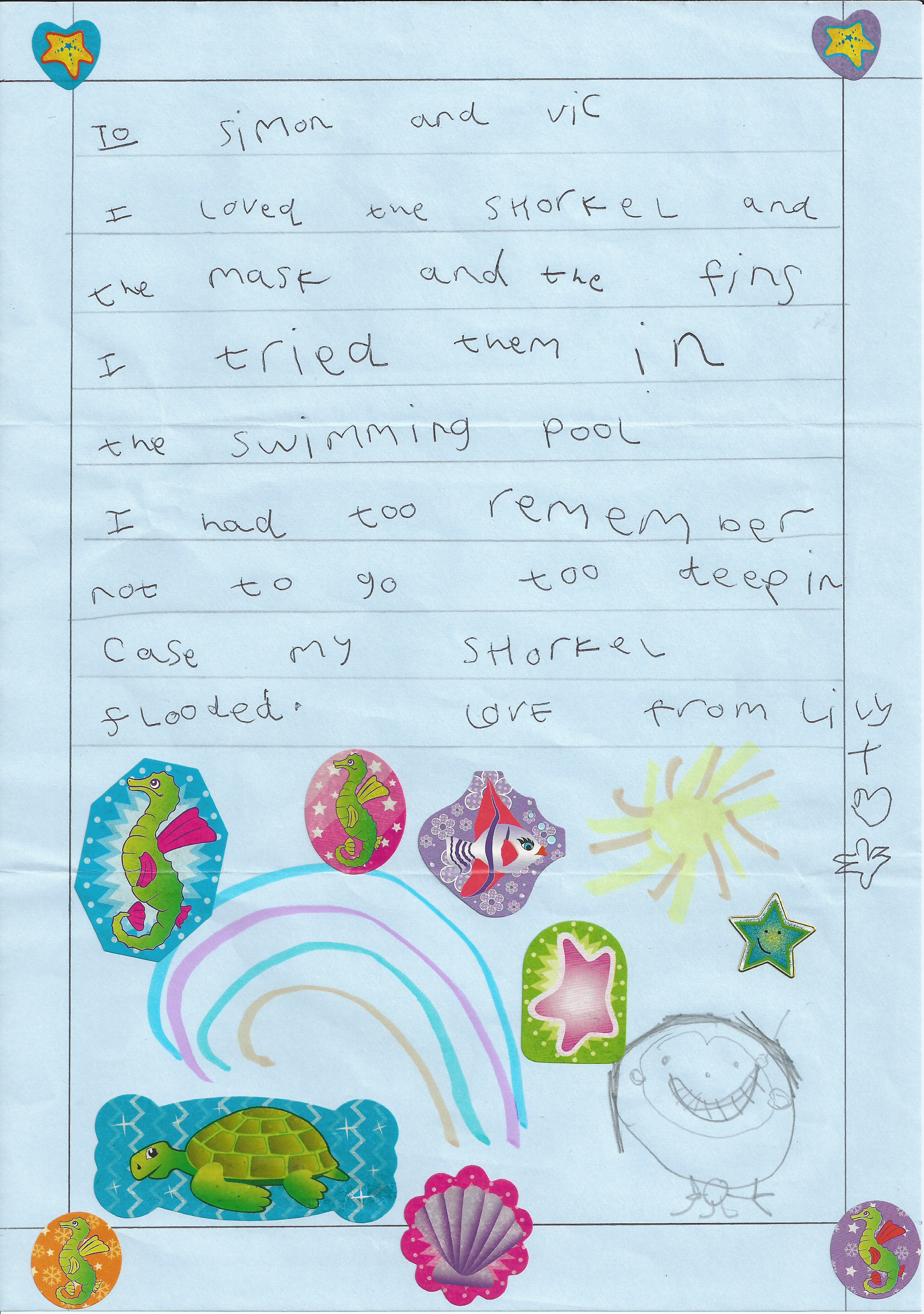 Ella
November 2014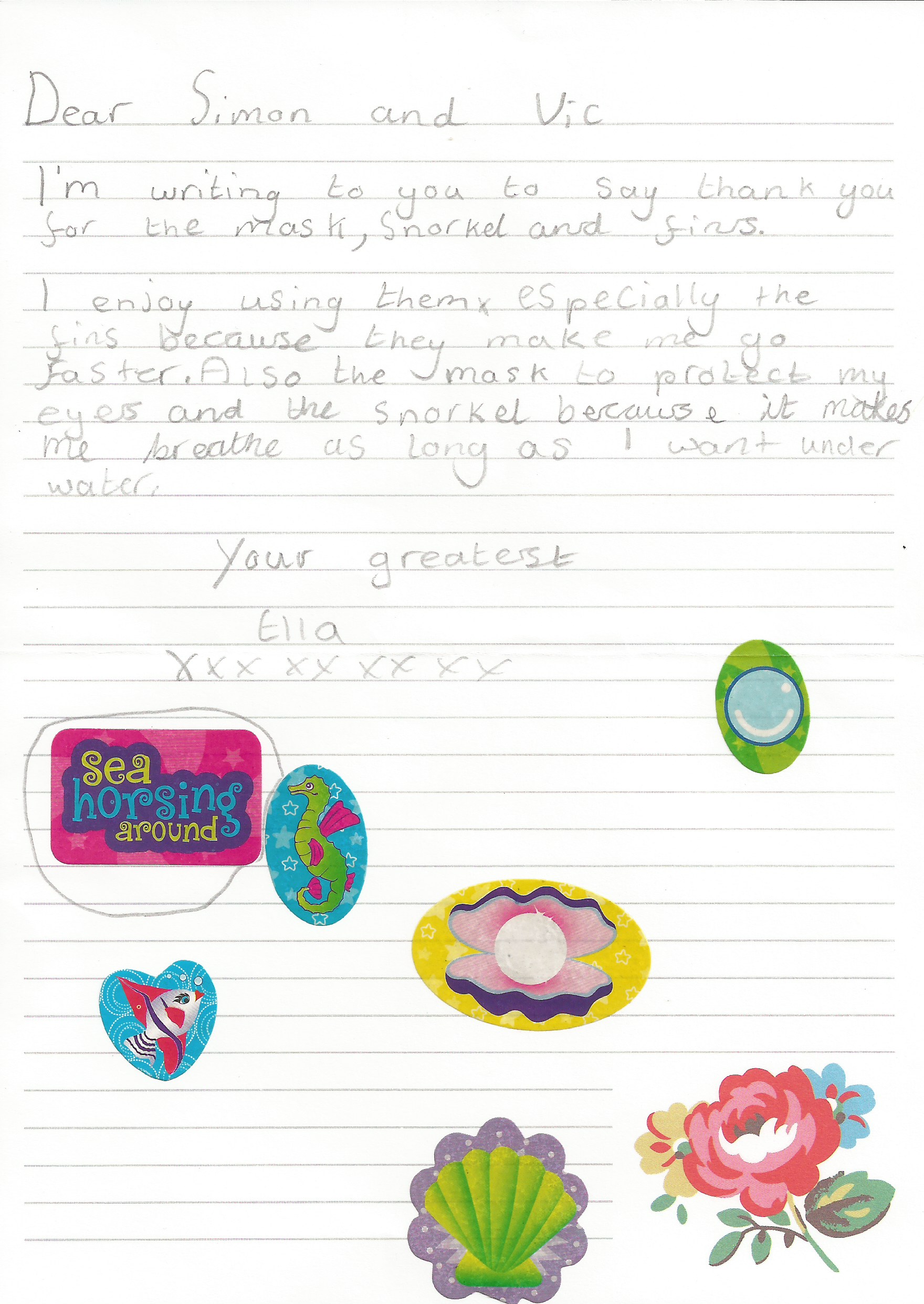 Dot Jones
November 2014
"★★★★★ I've amazed myself that I've got this far with my PADI Open Water Referral course but it's all down to Hotch and his team for their excellent training. They gave me the confidence to master all the skills and I must say that I really enjoyed the pool sessions. I'm looking forward now to my open water dives and will certainly let you know how I get on. I will be back for sure for a swim around and I'm quite interested in doing my Emergency First Responder in the New Year and letting Hotch introduce me to open UK water and the Dry Suit Diver course but not till April ! I'm a warm water person."
Steve Chambers
October 2014
"★★★★★ Thanks to Chris, Vic and the stellar team. I had a great time in capers doing my advanced. Can't wait to meet up with the scuba squad for my next underwater adventure."
Cathie Hewitt
October 2014
"★★★★★ We can't praise Stellar high enough. What an amazing group of people. If you want to learn to dive go to Stellar. Everyone is so friendly and the teaching is brilliant. I nearly gave up after panicking, but Vic was so reassuring and encouraging which enabled me to go back underwater and then complete my confined water dives. We will go back for more training after completing our open water dives. Our 2 youngest had a discovery dive and they too have become hooked and want to start their Padi training asap! Thank you Stellar Divers!."
Martin Coleman
September 2014
"We enjoyed every bit of the last 2 days. Thanks for making each dive interesting and enjoyable-'5 star' quality!."
Julian Miles
September 2014
"Thanks to all at stella for all Tina and Mia's pool and classroom work. They had no problems throwing themselves into sharks bay in sharm for their 4 qualification dives.
Their tutor, Karen from Elite Diving, was pleased with the way they had no issues with the salt water or the big open water and said they must have been schooled well in the pool. Having qualified they dived ras mohammed and terin for seeing a huge stone fish, 4 turtles, a couple of hammers a good time was had by all. 

The pic is of Mia holding instructors hand making sure he's ok with Tina in the background."
Herbading Frofang
August 2014
"Thank you so much to Vic, Hotch and the team at Stellar Divers for making my Open Water course fun and enjoyable. Everyone was very friendly, knowledgeable and patient! You certainly deserve your 5 Star PADI rating guys."
Mark Davis
August 2014
"Once again thanks to you both for everything. We both loved it at Capers and can't wait to go back there. Great diving, course, and socialising with you all. You guys are so welcoming and it has helped us no end in getting to where we are and part of why we are enjoying it."
Alex Dunton
July 2014
"Victoria & Simon, I had such a fantastic time today! Thank you so much, I am SO glad I decided to book onto the course!"
Kelly Thacker
July 2014
"Just a quick note to say a massive thank you to Hotch, Vic, Bill, Neil, Lance and everyone else at Stellar Divers for helping us get through our open water dive course. We are now looking forward to the next stage at Capernwray!"
Mark Davies
July 2014
"My partner and I just finished our open water dive course and cannot praise Hotch, Vic and the team at Stellar Divers enough. Helpful and friendly throughout, getting me and my partner through any issues we had in next to know time. Would thoroughly recommend to anyone looking to learn to dive or after meeting other divers. Can't wait to start our advanced open water with you next month!"
Sam Gregory
June 2014
"Thank you very much for last weekend, I had a great time and it has made me feel a much more confident diver!"
Tom Seagrief
June 2014
"Thank you for a brilliant course and all the support along the way, I have really enjoyed it and I look forward to my future as a qualified open water diver!!"
Julian Miles
April 2014
"Mia loved her seals course, she's not happy its finished and cant wait to start her open water. thank you vic and the crew."
Ron Irving
Feb 2014
"If you want to learn to dive, don't look anywhere else. From my first attempts to drown myself in the pool to swimming blind on my wreck course Vic and Simon and the other instructors have been superb; patient, calm and great instruction. Met some fabulous people all passionate about diving. And, most of all, had really good fun!! Ron"
Danielle Mountain
Jan 2014
"Amazing, friendly and extremely supportive in helping others to achieve their best and gain their personal full potential in scuba diving. A Super fantastical team."
Rob Pearson
Oct 2013
"Did my open water in Oct/Nov qualified a week before my trip to Malta. I can't recommend you guy enough. Big thanks to all at Stellar, especially Hotchpotch and Vic for there encouragement and support, you guys have opened up a whole new world for me!"
Mike Courtney
Aug 2013
Decided to learn to dive to overcome my fear of deep water. I looked around for dive clubs and after some digging came across Stellar. From the initial crash course i took to enable to complete my diving on holiday I have now been bitten by the diving bug. The tuition is excellent, the patience amazing (even though poor Vic had to spend all day teaching me to follow a compass heading). But most of all the fun and friendship are first class. Here's to many more bimbles around the lakes and oceans of the world….. Beautiful!
Steve Thomas
June 2013
"The best dive group I know in the area. Friendly fun and relaxed. Great people and we all like going diving with mr hotch n mrs hotch and the gang."
Mick May
May 2013
"Just completed my rescue course , fantastic and very friendly dive team would defiantly recommend using if just starting out or a diver wanting to progress."