I think it's a round of applause going out to Colin, Karl & Olly on an stunning mapping exercise for your DM course at 8 Acre & well done Colin & James for completing your DM theory this week also. Right!! Yes it's official, we need a bigger pool!!!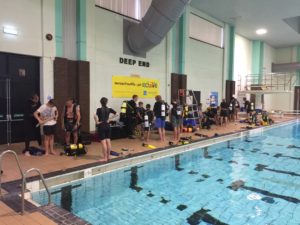 What a great double session today; firstly welcome to Gordon a very impressive

PADI

Discover Scuba Dive with our Helen (see you for your PADI Open Water soon), well done to Steven, Josh, Mary Ann, Alexa, Alex, Athena, Jack, Brandon, Jason, Sam, Molly, Simon, Daniel & Emma on your PADI Open Water courses. Great to see Arron back with us for a tune up with Ian & always good to see our PADI Seals Hannah, Jack & Coen having a great deal of fun, this week with Vic supported by Emily.
It was our pleasure then to support Active Nation for their "Discover Day" we were very happy to see 16 people sign onto our snorkelling & try dive session, we hope to see many of you back now you have the bug!!! Thank you to the awesome dive team of Mr D, Major, Russ, Siân, Alice, Dan, Chris W, Colin S, Colin J, Mark, James & Karl.
Right it's off to Wales now, no diving but some crazy antics!! have good week everyone, Hotch & Vic.